Environmental lawyers will argue plans to tackle air pollution are "flawed" as they bring a High Court challenge against the Government.
ClientEarth is bringing legal action against the UK and Welsh governments on Thursday in response to plans designed to clean up illegal levels of harmful nitrogen dioxide.
The charity, which has won two previous cases against ministers over failures to meet legal limits for the pollutant, says the latest proposals still fall short of what is needed.
Following court orders, ministers revealed plans for meeting European Union limits on the pollutant, much of which comes from vehicles, particularly those with diesel engines, in July after a long-running legal battle with the charity.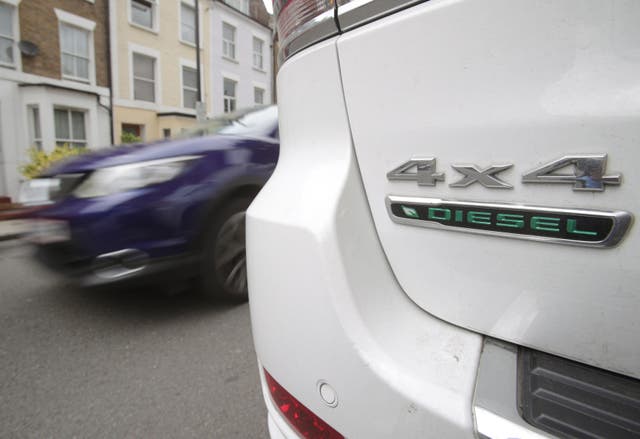 The measures included £255 million to help local authorities come up with ways to improve air quality, from improving public transport and changing road layouts to charging zones for polluting vehicles.
Much of the focus was on proposals to end the sale of all conventional petrol and diesel cars by 2040, to help tackle air pollution and emissions.
The Government was ordered to produce the latest plans after ClientEarth's successful case in 2016, when the courts ruled earlier proposals were not enough to meet EU pollution limits – which the UK has breached since the rules came into effect in 2010.
The charity's latest claim for judicial review is on the grounds the latest plan rows back on an earlier commitment to order five cities to introduce clean air zones by 2020.
It is also challenging the lack of any requirements for action to bring down air pollution as quickly as possible in 45 English local authorities and in Wales.
Chief executive James Thornton said: "The Government's latest plan is flawed.
"Even now, eight years after the original deadline for compliance, 37 out of 43 zones across the UK remain in breach of legal air pollution limits.
"Clean air zones would discourage the most polluting vehicles from entering the most polluted areas, something which the Government's own evidence showed was the most effective way of bringing down air pollution in the shortest time."
The case is being brought against the Environment Secretary, the Transport Secretary and the Cabinet Secretary for Environment and Rural Affairs in the Welsh Government.
The Environment Department (Defra) previously said it could not comment on ongoing legal proceedings.
But a spokesman added: "We have put in place a £3 billion plan to improve air quality and reduce harmful emissions.
"We will also end the sale of new diesel and petrol cars by 2040 and next year we will publish a comprehensive clean air strategy which will set out further steps to tackle air pollution."