US President Donald Trump has arrived in Houston on his second trip to storm-ravaged Texas in the past week.
Mr Trump and first lady Melania Trump were greeted at Ellington Field, a military reserve base in the south-east part of the city, by Texas governor Greg Abbott.
Four Cabinet members including education secretary Betsy DeVos joined the president on the trip.
Loading article content
TEXAS: We are with you today, we are with you tomorrow, and we will be with you EVERY SINGLE DAY AFTER, to restore, recover, and REBUILD! pic.twitter.com/p1Fh8jmmFA

— Donald J. Trump (@realDonaldTrump) September 2, 2017
The president was due to meet Harvey victims at the air field before heading to a relief centre.
Mr Trump did not meet victims and volunteers on his trip Tuesday to Corpus Christi and Austin.
Later Saturday the president will head to Louisiana.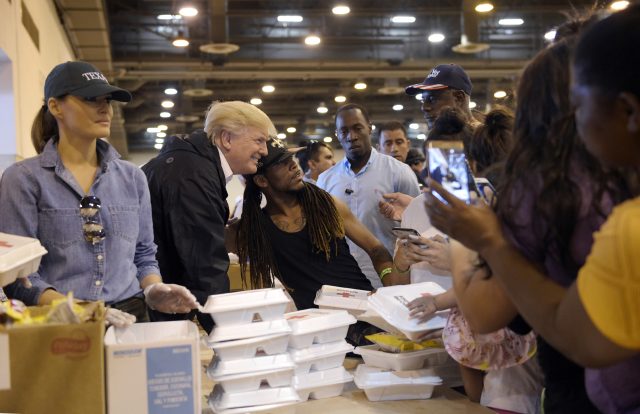 Donald Trump and Melania Trump pass out food to people impacted by Hurricane Harvey during a visit to the NRG Center in Houston (Susan Walsh/AP)
He left aboard Air Force One from a military base in Maryland and tweeted: "We will see you soon. America is with you!"
Earlier he said Harvey "has profoundly affected our entire nation" and praised what he called "heroic efforts" in the wake of the devastating storm.
Satellite imagery shows an 11 mile wide Brazos River draining slowly to the Gulf. #txwx #houwx #HarveyFlood pic.twitter.com/L9OTb5vr5F

— NWSWGRFC (@NWSWGRFC) September 2, 2017
He said in his weekly radio address: "We are with you every single step of the way. We will help you recover. We will help you rebuild. We will support you today, tomorrow, and the day after."
The White House said he will have time to talk to residents still recovering from the devastation and is also expected to meet volunteers.
Those elements were missing from his first visit to the region. He was criticised as being off-key for a presidential trip to discuss communities in crisis.
The US president was criticised for being off-key in his first trip to Texas (Susan Walsh/AP)
Mr Trump later helped serve lunch at a shelter for people displaced by Harvey.
Wearing plastic gloves and a wide smile, he stood next to his wife and handed out hot dogs in white containers with the Red Cross logo.
He shook hands and posed for photos and was heard asking one man about his military service.