US astronaut Peggy Whitson has returned to Earth after a record-breaking mission.
She has spent a total of 665 days off the planet — 288 days on this mission alone.
After the 9:21pm ET landing, @AstroPeggy has a total of 665 days in space, the U.S. record and places 8th on all-time space endurance list pic.twitter.com/grVIRo3SmX

— NASA (@NASA) September 3, 2017
Ms Whitson's time in orbit exceeds that of any other American and any other woman worldwide.
Loading article content
Along with another American and a Russian, she landed in Kazakhstan shortly after sunrise on Sunday.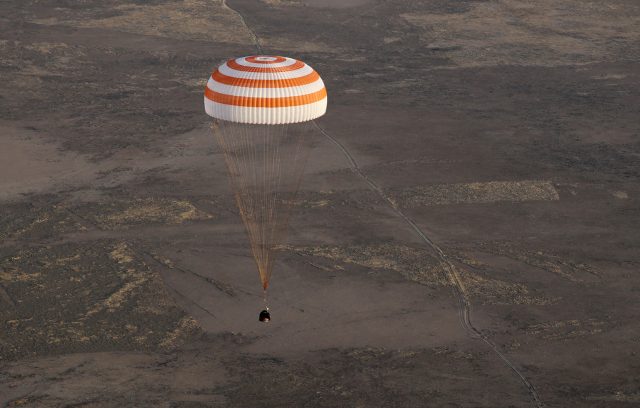 The space capsule coming in to land. (AP)
She became the world's oldest spacewoman at the age of 57 and most experienced female space walker following her launch last November. She was also the first woman to command the space station twice. This was her third flight.
Returning cosmonaut Fyodor Yurchikhin has logged even more time in orbit – 673 days over five missions. The other astronaut to return home was Jack Fischer, with 136 days in orbit. Both men flew up in April.