Tropical Storm Nate has strengthened to a hurricane and is expected to reach the US Gulf Coast over the weekend.
The National Hurricane Centre said the storm has maximum sustained winds of 80mph and is likely to strengthen over the Gulf of Mexico, reaching the US coast near New Orleans later on Saturday.
Hurricane #Nate Update: Air Force Hurricane Hunter finds that Nate has become a hurricane: https://t.co/2GyAERl7E1

— NHC Atlantic Ops (@NHC_Atlantic) October 7, 2017
Louisiana and Mississippi officials declared states of emergency and Louisiana ordered some people to evacuate coastal areas and barrier islands ahead of its expected landfall.
Evacuations began at some offshore oil platforms in the Gulf.
Mississippi's government said it would open 11 evacuation shelters in areas away from the immediate coast, with buses available for people who cannot drive.
Here are the 10 PM CDT Oct. 6 key messages for Tropical Storm #Nate. https://t.co/FL3pi16PWx pic.twitter.com/3gRY75bIrP

— NHC Atlantic Ops (@NHC_Atlantic) October 7, 2017
The storm has already drenched Central America with rain that was blamed for at least 21 deaths.
The National Hurricane Centre warned that Nate could raise sea levels by 4ft to 7ft from Morgan City, Louisiana, to the Alabama-Florida border.
The centre added metropolitan New Orleans and Lake Pontchartrain to its latest hurricane warning.
The storm is south-south-east of the mouth of the Mississippi River, moving north-north-west at 22mph.
Tropical storm #Nate has brought landslides, flooding and loss of life to parts of central America and is likely to become a hurricane pic.twitter.com/TJrag4LDQe

— Met Office (@metoffice) October 6, 2017
Authorities cancelled classes in parts of Mexico's Caribbean coast state of Quintana Roo, where Cozumel and Cancun are located, but governor Carlos Joaquin said it appeared the storm would stay well offshore and not hit Mexican land, adding: "That, I believe, is good news."
In Nicaragua, Nate's arrival followed two weeks of near-constant rain that had left the ground saturated and rivers swollen. Authorities placed the whole country on alert and warned of flooding and landslides.
Vice president Rosario Murillo said at least 11 people had died in the country due to the storm. Earlier on Thursday she had said 15 had died before later revising to say some of those were still counted as missing.
NASA & @NOAASatellites provided infrared images of Tropical Storm #Nate, showing important temperature info. More: https://t.co/kyD5wmi9Rp pic.twitter.com/6STngTvTbM

— NASA (@NASA) October 6, 2017
She did not give details on all the deaths, but said two women and a man who worked for the Health Ministry were swept away by a flooded canal in the central municipality of Juigalpa.
Costa Rica's Judicial Investigation Organism blamed seven deaths on the storm and said 15 people were missing. Flooding drove 5,000 residents into emergency shelters.
In Honduras, there were three dead and three missing, according to Oscar Triminio, spokesman for the country's firefighters.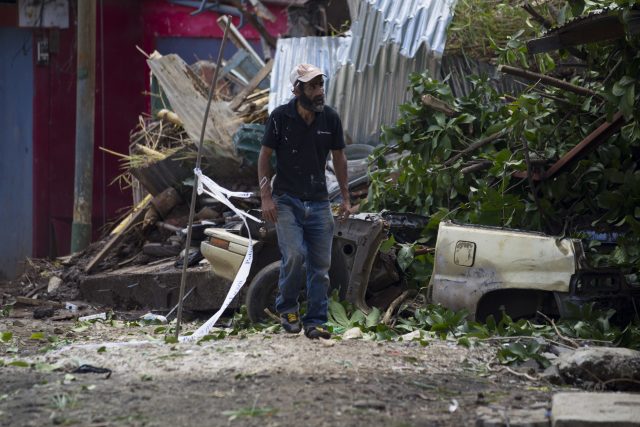 Damage left by Nate on the outskirts of San Jose, Costa Rica (Moises Castillo/AP)
Damage caused by the storm prompted Costa Rican officials to postpone a World Cup qualifying football match with Honduras on Friday night.
In Louisiana, governor John Bel Edwards declared a state of emergency and mobilised 1,300 National Guard troops.
With forecasts projecting landfall in south-east Louisiana as a Category 1 hurricane, Mr Edwards urged residents to ready for rainfall, storm surge and severe winds — and to be where they intend to hunker down by "dark on Saturday".
Louisiana's governor said Nate is forecast to move quickly, rather than stall and drop tremendous amounts of rain on the state. State officials hope that means New Orleans will not run into problems with its pumps being able to handle the water.