Theresa May has hailed the "very good relations" between Britain and Spain as she hosted King Felipe for a working lunch at No 10.
The Prime Minister insisted the two nations would maintain the "closest possible relationship" after Brexit when she welcomed the monarch to Downing Street on the second day of his state visit.
The Prime Minister welcomed King Felipe VI to Downing Street today as part of the #SpainStateVisit. pic.twitter.com/EKywrRf0xe

— UK Prime Minister (@Number10gov) July 13, 2017
Officials refused to be drawn on the focus of the meeting but talks may include the future of Gibraltar after the king said on Wednesday he was confident that the countries would overcome their "differences" and find a solution "acceptable to all involved".
Loading article content
The comments, made in a speech to Parliament, provoked a furious response from the Rock's chief minister, Fabian Picardo, who claimed the territory was being treated like a "pawn in a chess game".
Spain has a long-standing territorial claim on Gibraltar, which has been held by the UK since 1713, but the Prime Minister has previously insisted that its status will not be up for discussion during exit talks from the EU.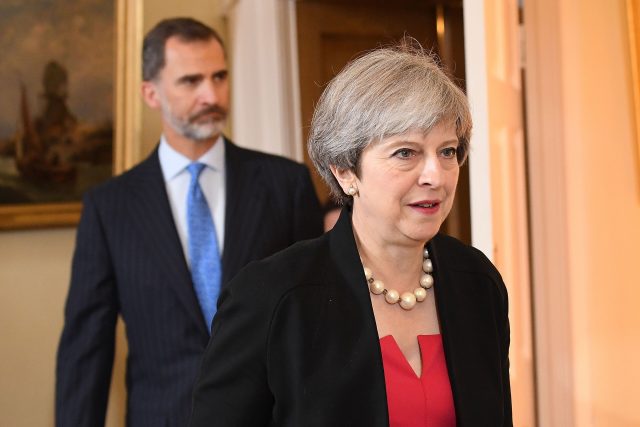 (Leon Neal/PA)
Government officials said it was an issue "on which we do not see eye to eye, our position is clear: the sovereignty of Gibraltar is not up for discussion".
At a state banquet later on Wednesday evening, the Queen appeared to acknowledge the thorny issue when she made a similar comment, saying the two countries did not always see "eye to eye", although she did not explicitly refer to the status of Gibraltar.
Mrs May greeted the king on the steps of No 10 before talks where she praised the "excellent" speech he had given in Parliament and said the UK and Spain have "very good relations".
PM: "Historic #SpainStateVisit celebrates the depth and breadth of our longstanding ties with Spain." Read more: https://t.co/AZOOcPKPSV pic.twitter.com/7Ii3SthtUA

— UK Prime Minister (@Number10gov) July 13, 2017
King Felipe said he had been "looking forward to this visit for sometime", a reference to the decision to postpone the trip twice, the first time following a political crisis in Spain and the second down to the snap general election.
The state visit is Spain's first since 1986 and comes as British and Spanish company bosses gathered at the Mansion House for a business forum.
Spanish manufacturer CAF announced that it will start building trains and trams at a new factory in Newport, South Wales, with £30 million of investment in the facility that will lead to 300 new jobs.
Other Spanish companies are boosting operations in the UK, including infrastructure company Sacyr, officials said.